This is the RC1 track listing for Cassette Boy's first full length cd, 7 years in the making. The press said -
"Whether you listen to it once for laughs or study it in depth; whether you take it as a comedy record, a major statement, a technical and aesthetic accomplishment, or just a couple of guys doing silly shit with their tape recorders, this is a hilarious, gripping album. Don't turn your back on it."
"Relentless and stupidly brilliant. EVERYTIME this is played in the store, customers are either silently chuckling, laughing uproariously or coming up to find out what the hell we're listening to! This is the party cd/mix tape/answering machine message record of the year!!"
or as mikecasette has is "'Basically we record famous people and make it sound like they're talking about sex or
drugs. It's a winning formula.'"

here's a pic of cassetteboy dressed as Jesus n Mary. Lovely.
2CO is an authorized retailer for goods provided by Spymania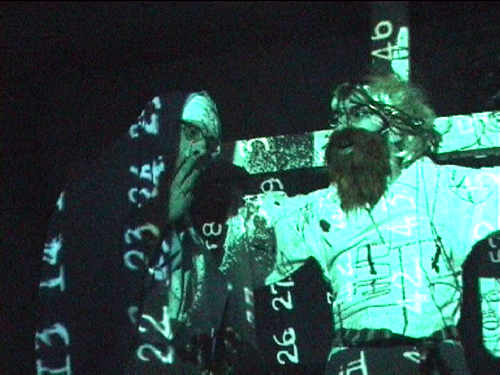 [back]